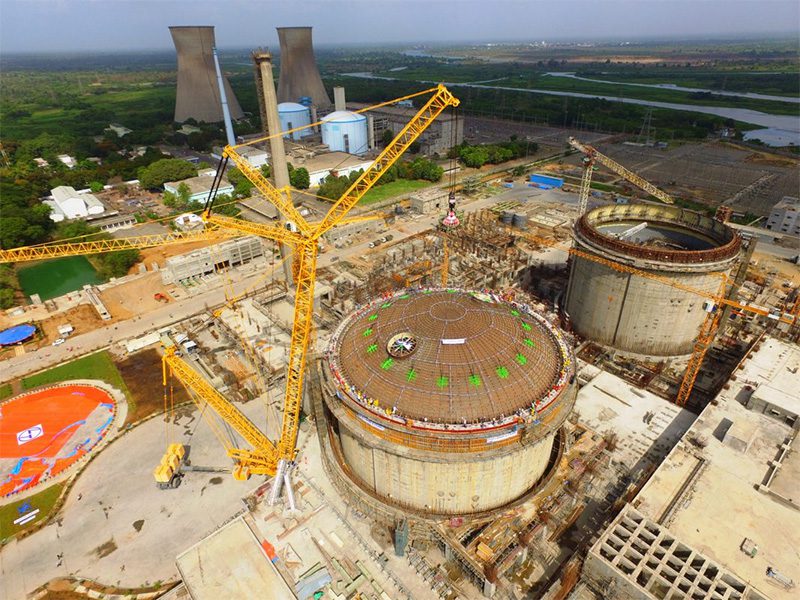 One of our most prestigious projects the Nuclear dome lift was carried out in Kakrapar, Gujarat. The Nuclear Plant dome is currently used to store radioactive material to generate power.
Sealinkers was awarded the contract for the supply of Load cell Shackles, High capacity Wire rope slings and Turnbuckles for lifting the concrete dome weighing upto 350 tons.
IC Dome liner system of KAPP-4 is engineered for lifting as a single unit of 365 MT which includes (Dome structure, tools & tackles, Containment Spray System, Hydrogen & Steam Conditioning Monitoring System & evener beam) with the help of heavy duty crawler crane. IC dome structural panel is a double curvature segmental dome with two large openings, it is 8 m in height and 46 m in diameter.
Based on type of curvatures & dimensions, 10 different types and total 53 no. of panels were used for fabrication of IC dome liner structure. In order to meet construction schedule total 33 jigs were used, this includes fit-up, welding & transportation jigs & more than 200 number were prepared to check curvature in meridional & circumferential profile.
After welding of panels the entire assembly was then engaged through tools & tackles and evener beam to the crane. IC Dome was then lifted 1m above ground level two times, first for 0.5 hrs and then for 2 hrs in order to relieve stresses & was checked for its horizontality.
This project required rigorous planning, testing and education. All procedures were conducted and witness with great level of coordination. After conducting working together with the finest engineers and scientist of the nation. We are proud to add this lift into our list of alccolades.